Prime Minister's Youth Business Loan
Prime Minister's 'Youth Business Loan', for young entrepreneurs between the age group of 21 – 45 years, is designed to provide subsidized financing at 8.0% mark-up per annum for one hundred thousand (100,000) beneficiaries, through designated financial institutions, initially through National Bank of Pakistan (NBP) and First Women Bank Ltd. (FWBL). Small business loan with tenure up to 8 years, with first year grace period, and a debt : equity of 90 : 10 will be disbursed to SME beneficiaries across Pakistan, covering; Punjab, Sindh, Khyber Pakhtunkhwa, Balochistan, Gilgit Baltistan, Azad Jammu & Kashmir and Federally Administered Tribal Areas (FATA). It has a 50% quota for women and 5% quota for families of Shaheeds, Widows and Disabled persons.
"Ministry of Industries and Production is the Focal Ministry for the Execution of Prime Minister's Youth Business Loan Scheme… MoIP, through its member organisations, has taken a number of initiatives to facilitate the loan beneficiaries."
TUSDEC Role & Support for the programme
TUSDEC intends to inculcate an approach of ACT, LEARN and BUILD in the beneficiaries besides building their technical skills and expertise for a successful business venture. To materialize the approach we have devised a comprehensive programme realizing standalone technical trainings cannot create successful business. We will not only evaluate the entrepreneurial traits of the beneficiaries but will also build and hone their behavioral skills, aptitude, business acumen, leadership qualities and other competencies needed to transform them into seasoned and successful entrepreneurs to soar their business to new heights!

Solar Service Shop
Investment = Rs. 1,700,000
Approx. Profit = Rs. 300,000 in first year which may increase gradually.
Download Pre Feasibility

Light Engineering
Investment = Rs. 1,900,000
Approx. Profit = Rs. 350,000 in first year which may increase gradually.
Download Pre Feasibility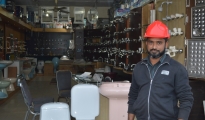 Ceramic and Sanitary Ware
Investment = Rs. 1,900,000
Approx. Profit = Rs. 300,000 in first year which may increase gradually.
Download Pre Feasibility
Digital Product Design Centre
Investment = Rs. 1,900,000
Approx. Profit = Rs. 300,000 in first year which may increase gradually.
Download Pre Feasibility
Partner Organisations for Business and Technical Advisory Services