SKILL COMPETITION AND CERTIFICATE/TOOL KIT DISTRIBUTION CEREMONY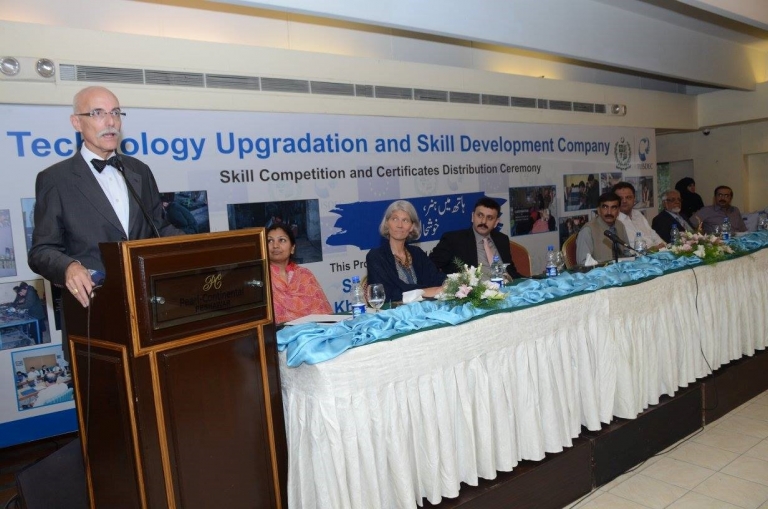 The Honorable EU Ambassador to Pakistan, Mr. Jean Francois Cautain with his delegation visited the TUSDEC partner Institution, Ummah College of Technology where he inaugurated the Solar lab that TUSDEC installed in the Institution. The Honorable Ambassador highly appreciated the efforts and mixed with the instructors and trainees.
After this visit, the delegation traveled to Pearl Continental Hotel Peshawar where the Skill competition and Certificate/Tool Kit distribution ceremony was held. Before that, he visited and saw the Skill competition in 04 trades (Beautician, UPS Assembly, and Tailoring & Embroidery). The guests were very appreciative of the trainees' skills in the competition. The Honorable guests then visited the 08 stalls of TUSDEC partners displaying relative products and display of live skill in each stall. They were very much pleased with the display of embroidery & dress making skills of women from Bajaur under FDA, Traditional Shoe (Chapal) making from Charsadda (SDC), Dress making and Fashion Designing from Peshawar and Swat partners (Khowendo Kor & Shama Institute), UPS assembling from Abbotabad (COMSATS), Beautician and skin care from Peshawar (Honey Academy), Plumbing (ANSI Institute Mardan) and the interaction with TUSDEC partner (Edifiers Youth network) through which TUSDEC is linking fresh graduates and masters youth with the vocational training programme on ground in KP and FATA for a productive linkage and growth through developing synergy between formal educated and vocational trained youth and people.
Mr. Basit Abbasi, CEO TUSDEC briefed the guests about TUSDEC and its programmes, highlighted the work in different sectors of technology upgradation and skill development and the productiveness and interventions made for the marginalized and vulnerable community.
A short Video was presented which was made by TUSDEC staff and trainees. TUSDEC team took all the guests live on Skype and showed them 03 Training institutes; DROSH Institute Chitral, FDA Women Institute Bajaur. The live coverage using skype of the recently started female training of Solar Panel fitting and maintenance in Peshawar was showed to the guests, who highly appreciated these efforts and innovative and practical approach of TUSDEC Team.
Mr. Haji Muhammad Asaf (ex-president KPCCI and Director SDC) shared some views in his speech and after that the Honorable Ambassador shared his views and thoughts with the guests, he highly appreciated the efforts of TUSDEC in skill development.
The Certificate and Tool Kit distribution ceremony was held after his speech and 20 trainees in different trades from FATA and 08 females from Lower Dir were awarded certificates and related tool Kits. The four winners of the skill competition were also awarded tool kits by the Honorable Ambassador and CEO TUSDEC. Souvenirs were also presented to the honorable guests from TEVTA, Chamber of Commerce, FDA FATA and PAF. CEO TUSDEC presented a traditional hand embroidered long coat (Chuga) to the Honorable Ambassador and traditionally crafted hand bags to the EU delegation female members.