Upgradation of labs at Mashaal Institute for Special Education, Tarbela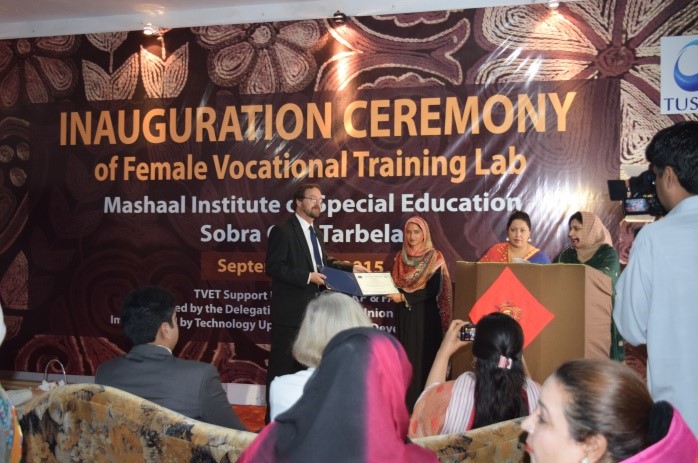 TUSDEC took the initiative to upgrade a School for Special Children at Ghazi (Tarbela)- Mashaal Institute of Special Education which earned good reputation due to its quality education for special children. Labswere upgraded for hand & machine embroidery, advance tailoring and handicrafts. TUSDEC also facilitated Mashaal Institute in getting SDC registration.
Inauguration of solar lab by EU Ambassador at Ummah College of Technology
TUSDEC established a Solar Lab in Ummah College of Technology, Nowshera. The institute was already providing vocational training in the field of Wood Work, Electrician, Generator Mechanic and Computer/IT with special focus on orphans. Considering the noble cause and local demand the equipment/tools for Solar Lab was procured and a well-equipped lab was setup in Ummah College of Technology, Nowshera. The lab was inaugurated by dignitaries from the Delegation of European Union to Pakistan on 10th May, 2016.
Upgradation of Govt. Tech. & Vocational Center Mardan in Beautician Trade